"My name is Bob and I was a daily drunk. Believe when I say, I hated myself very much, every day. I drank through the sadness of both my parents deaths—just to feel, not to feel. After 30 years of drinking, there came the inevitable DUI, followed by the beginnings of the recovery process.
At first I entered into a sobriety class at El Camino, with my wife. When that didn't suit me, I was invited to leave my home and check into the Camp in August 2000. I returned to the Camp on 12/9/00. This time I listened hard and found another way to approach the problem. I took notes and WORKED the first three steps. I finally got the picture: I was there for MY program and not anyone else's! I chose a sponsor, and matriculated with a clean date of 12/7/00.
Events occurred to and around me after that date, but I always found ways to not drink. I relied upon my spirituality and recovery to get me through the trials, including stroke, facing job-loss and my initial sponsor leaving the program. I faced these events bravely, going to meetings and talking about them. I found hope in talking to fellow addicts! But I never did 'replace' my sponsor, and that was a mistake.
Eventually all and well-meaning in my world caught me up in larger-that-life turmoil and ended up drinking. I did so but kept it 'hidden'–or so I thought. After 8 months I was discovered by my wife. This was after I had accepted the 8-year chip!! Believe me when I say I was thankful that the bottle was found—I'd forgotten all my principles so carefully crafted for all those years!
I promised that I would get a sponsor and that I would return to sobriety, and I did. I apologized at each and every meeting that I had attended and expressed remorse. I gained a new respect for the power of alcohol. I now hope to remain sober–one day a time."
-Bob
"By early 2005 smoking meth had caused life-threatening physical consequences. When my right lung collapsed people told me I needed help. Before that was completely healed the left lung collapsed and I knew they were right. In the hospital I learned that my kidneys were shutting down also so when I was discharged from the hospital I went directly to The Camp.
This was my first exposure to the 12-step recovery program and I began to see things in a different way. As the fog lifted from my mind I started to understand what I was hearing. I learned a lot about the nature of my disease and when recovering addicts came to speak I was able to identify myself in their stories.
By the end of my thirty day stay I had come to believe that if I continued on the path they had followed recovery for me was possible. My counselor suggested that attending weekly aftercare meetings would improve my chances for long-term recovery. Since then I have been a regular at both the meeting Thursday night at The Camp and the Wednesday aftercare group in Campbell.
Using the tools of recovery I have repaired most the wreckage of my past. Now I'm working on a plan to start a new business as a contractor. My life today is richer and more meaningful than I would have thought possible six years ago."
-Conrad
Claire's Story  – From Truancy to Honors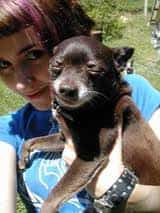 I've never had so much sober fun in my life.
I was drinking at my Dad's house in Alameda where I would go on the weekends and then finally I got kicked out of school with like 7 or 8 other people because they thought I was in a drug dealing ring.  They were all my friends but I didn't do anything.  I had missed like 30 or 40 days though.
I walk up to "the cathedral" every day and spend a few minutes thinking about my family and what got me here. I am about to graduate from the high school here at The Camp with honors,  and I haven't had a drink in 145 days.  I really like the acupuncture and the "heart math" they have us do.  I like the outdoors and there are a few kittens here that I feed every day.
I am going to go to beauty school in San Jose, but I will miss this place because it is so beautiful.  I love The Camp.
Chelsea's Story of Getting Treatment at Our Center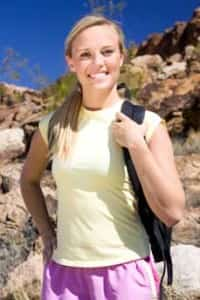 I spent a lot of time missing school after my parents split up and it was always "one thing leads to another."
The thing was that I wasn't one of the ones that seemed to be into Oxys, Vicodins, and the other drugs like heroin.  I was into marijuana.  BUT, in Vegas that was a lot less common and instead we started using a little meth for our long shifts and then OxyContin (or whatever) to come down after the shift.I grew up here in Santa Clara and then spent some time on the streets of Berkeley until for some reason I moved to Las Vegas.  I had 2 friends and we were getting high all the time and we were old enough to work in the casinos as waitresses so we went.
After a while… I got really hooked on the Oxys and then when "P" came out (sticky OxyContin) we couldn't get high off of it (although I think I came close  by freezing it and snorting it).  I was actually suicidal because of my cravings and so I did heroin.
Finally, I got my 3rd DUI (very easy to get in Vegas) and also a possession charge.  I was finally 'ready' for the first time to get clean.  The judge cut me a break with my Mom in the court when I promised to go to treatment here.
It was physically hard at first to be clean and sober.  I had a hard time during the initial detox and I was really sad and distracted during all the activities.  But The Camp has become my home.  I think the serenity of the location has helped me find serenity in being clean.  I am a recovery dork now and I say all those quotes like "I used to be a hopeless dope fiend but now I'm a dopeless hope fiend" –  because quotes like that mean a lot to me.
There is a different speaker every night and I remember one of the first nights, this guy came in and he was talking about how he felt left out of life, "like everyone is in a bubble that he wanted a key to get in." I can definitely relate to that story.
I have 80 days sober now and in 10 more days I finish my time at The Camp.  I am going to move to a sober living house in San Jose and start work at my old job – they are letting me come back.
That's how it is when you get sober… doors just open for you.
– Chelsea
get confidential help now:
(831) 269-5578
Email Us